Blade Runner
Blade Runner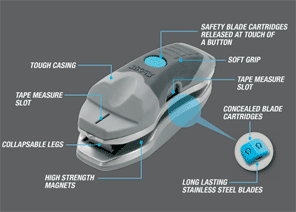 Description
Key features
Reduces risk of accidents
No exposed blades. Blades never in contact with fingers or hands.
Cut in a forward motion. Trip hazards are visible.
Tool is pushed away from the body. Reduced riks of cuts and injury.
Saves time on site
Cutting time halved. No turning to cut reverse of board.
Cuts shapes, corners and circles. Over three times quicker than a utility knife.
Neat professional finish. Consistent and clean finish with every cut.
Data
Product Codes and Pack Quantites
Product
Product Code
Case Size
BladeRunner
85128
6
BladeRunner blade refill 6 pack
85135
24
BladeRunner blade refill 12 pack
85136
24
BladeRunner Holster
85159
6
BladeRunner Rasp
85185
6