Hop Ups
Hop Ups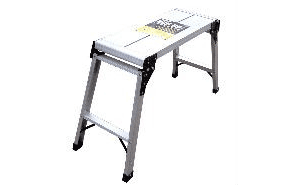 Description
The Hop-Up is a lightweight Work Platform with a compact design for easy storage. It has a locking latch arm on each leg, non slip plastic feet, strong rivet and pin construction and braced legs with aluminium cross sections for stability. Max Load: 150kg. Manufactured to EN131: 1993 - Part 2 with BS2037 certificate.

Available in Standard or Large Size: Standard Platform size: 80cm x 30cm. Height: 60cm.
Large Platform size: 90cm x 60cm. Height: 60cm.
Data
Pack Size
Box Quantity
80cms x 30cms
1
90cms x 60cms
1